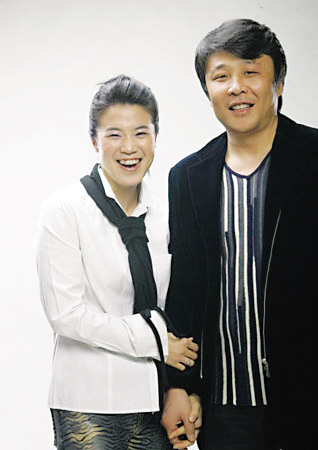 Wang Nan and male friendly Guo Bin

On September 27, 2008, the traditional Chinese calendar was August 28, it is a conjugal wedding day absolutely, the Wang Nan with empress of table tennis circles of crown of gold of 4 Olympic Gameses also will be in this day, with land agent Guo Bin is fond of a knot to connect manage, marriage banquet place is to be on a of Yantai maritime space luxurious houseboat.
The marriage that the sporting world lifts after Beijing Olympic Games among upsurge, the houseboat wedding of Nan of king of Olympic Games champion is the most provoking undoubtedly fix eyes on. It is reported, as a result of affirmatory at the beginning wedding day as it happens and victory meeting of national Olympic Games conflicted on September 28, so Wang Nan shifted to an earlier date wedding one day designedly, this month 27 days are held. When accepting the author to interview, wang Nan also affirmed this wedding day, "Yes, wedding was held to 27 ahead of schedule now, 28 I hurry to Beijing to attend an Olympic Games to celebrate even result " .
Wang Nan weighs him here asked a few honoured guest only, but specific list still cannot decide now. King Nan say, "Because entertain guests in Beijing and Liaoning even next, so we just asked one part in a small way to concern special the relatives and friends that be close friends, these two days are mixed in busy hair invitation card all the time a few otherer thing " .
As a result of Wang Nan coterie predestined relationship is wonderful, her marital Guo Bin is in business circles also is fame resonant, so this marriage banquet inevitable little not sports and the star add to the fun that perform art bound. "Star? Should have a few, but I must keep secret. " the message that chairs wedding to Zhao Benshan coming out before this, wang Nan did not affirm, "A lot of detail had been not knocked now calm, knew to moment " .
When the author begs card to Liu Guoliang's couple, wife king Jin of Liu Guoliang weighs what had received Wang Nan to invite, to moment regular meeting is attended. The power sea that before Wang Jin still divulges the place is not, says, changed Yantai however, "My Laogong tells me to say go aboard in Yantai, but specific can open power sea from Yantai, I did not know. " Zhou Yi

(origin: Chongqing business signs up for)